November 2019 saw the release of our 6th edition of our seasonal 'Locavore' release. This year, we set out to make our Locavore project bigger and better. The goal of Locavore from when the idea was created was simple, to celebrate the hops grown on our hop farm in one seasonal brew and champion the terroir of our Wicklow Mountain Hop Farm.
Our hop farm has a special place within Wicklow Wolf, before our brewery was opened in Bray and our first beer brewed, we had planted the first hops on our farm, and played a role in the naming of Wicklow Wolf (the Latin name for Hops being Humulus Lupus – getting its name from the majestic predators). Terroir, provenance and pride in our local area were key factors in the establishment of Wicklow Wolf and for Locavore 2019 we wanted to celebrate that.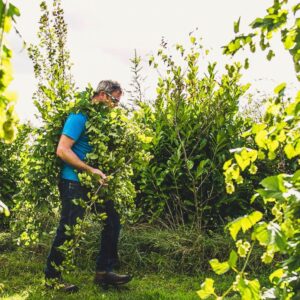 Locavore 2019, a Dry Irish Stout at 5.5% saw 3,000 cans released with a simple goal to champion our mission – 'brew exceptional beer in a sustainable way'. Beer has 4 key ingredients:
Water – we use Wicklow Mountain water straight from the Vartry Resevoir
Malt Barley – we teamed up with Athgarret Malt to small batch roast his malted barley specifically for this brew
Hops – We had a hop picking day in the brewery where the hard work that Simon (our co-founder and hop farmer) put into the hops over the year all paid off and the hops were hand picked and ready to be added straight to the kettle fresh.
Yeast – we used our own in house brewery yeast. The result? An exceptional dry Irish stout that we are incredibly proud of.
With 3,000 cans we took proceeds from each can sale to invest in planting an additional 1,000 native Irish trees on our Hop Farm. This additional 1,000 native Irish trees means that we would be doubling the amount of trees that we have planted on our Hop Farm and helping to offset carbon emissions and create biodiversity and give back to the ecosystem on the farm.
We put Simon (with a little help from Monty) to work and are very proud to have finally planted all of the 1,000 trees on the Hop Farm that have been planted as a direct result from the sales of Locavore 2019. A mix of native Irish Oak, Silver Birch, Alder, Hazel, Larch, Scots Pine and Whitethorn have been planted.
Thank you to everyone that bought, drank and enjoyed Locavore 2019 – with your help and the help of the Wicklow Wolf Pack (our community) we have planted 1,000 native Irish trees in the Garden County. Cheers.