The Locavore Project
The objective of our locavore project is simple, to celebrate the hops grown on the Wicklow Wolf hop farm. Released once a year after the harvest of hops from the farm, Wicklow Wolf Locavore has seen four different interpretations by Pete, our head brewer. Made using Wicklow Wolf hops, Wicklow water, Irish malt and Irish yeast.
Fresh Hop Farmhouse Ale
Hops
Perle, Cascade, Bramling cross,
Golden sweet biscuit malt flavours with fruity and spicy yeast and hop tones. Drink Fresh
BEST SERVED AT 8º
Gone but not forgotten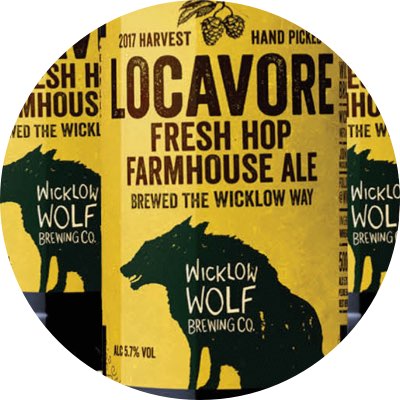 2014 – Fresh Hopped Blonde Ale
4.8
Made using all Irish ingredients. We start with a grain bill of 100% Irish Ale Malt from Malting Company of Ireland. The beer is hopped using all of our own hops grown in Roundwood This years batch has a blend of Cascade, Perle, Nugget, and Prima Dona. The hops are added late in the boil to capture the subtle flavor and aromas from the hops. As this is a special harvest ale, the beer will never taste the same from year to year, as we plant newer varieties of hops and the harvest yeilds increase the brews will be unique every time.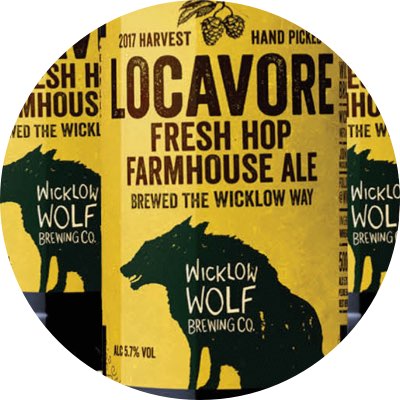 2015 – Fresh Hop Irish Pale Ale
4.7
The name reflects the fact this is a beer using only Irish ingredients. Using a blend of six different hops, all of which were grown on the brewery's hop farm in Roundwood Co Wicklow, as well as Irish ale yeast, Irish barley and Irish water, it's a golden Irish ale with toasted biscuit, citrus and mild spice hop tones.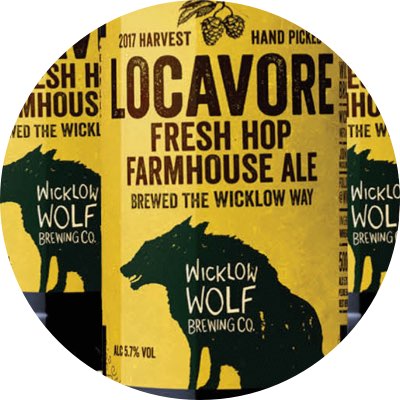 2016 Fresh Hop Golden Ale
5.6
The third annual Wet Hopped Locavore Beer. This beer is brewed using only Irish Barley and Freshly Harvest Irish Hops grown on our own farm on the shoulders of the Wicklow Mountains. A sweet, malty ale that delivers orange, hoppy pine and citrus finish.
Hop Farm
At Wicklow Wolf we are very proud of having our very own 10 acre hop farm located in Roundwood, co. Wicklow Here, we grow our own hops overlooking the wildering Wicklow forests, mountains, lakes and with an eagle eyed view of the Irish Sea . The hop farm are overseen by the expert eye of co-owner Simon Lynch. Simon has spent over 20 years working in the horticulture business and his passion, expertise and drive is what helps to make our hop farm flourish.
The Wicklow Wolf Hop Farm is the first commercial hop farm in ireland in over 20 years. Here we grow over 12 varieties including Chinook, Cascade, Perle, bramling cross, Fuggle. Challenger, Apollo.
Keep Reading